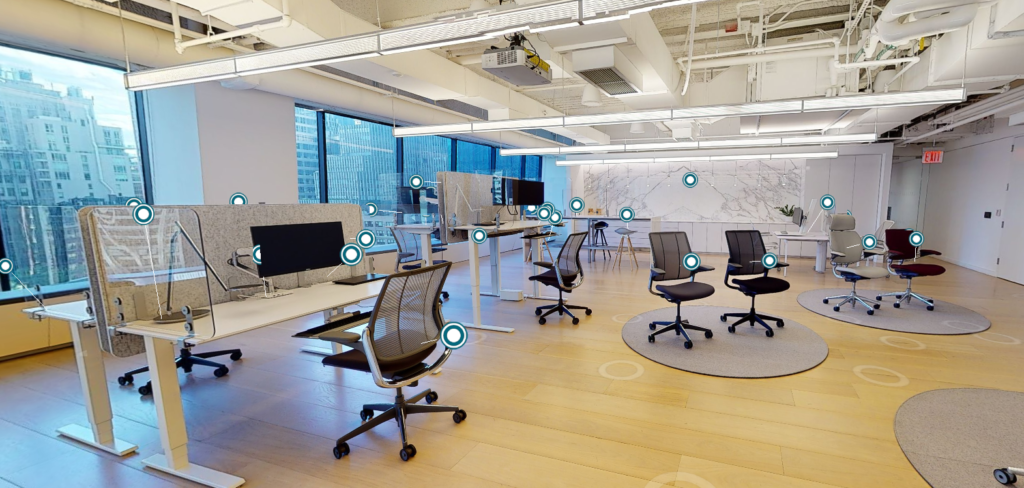 Autodesk Revit is a building information modelling software for architects, landscape architects, structural engineers, mechanical, electrical, and plumbing (MEP) engineers, designers and contractors. The software allows you to design a building, its structure, and its components in 3D. Here at 360 Virtual View we can produce BIM files which can then be easily imported into Autodesk's Revit software.
Included in the BIM (Building Information Modelling) package are:
RVT file (compatible with Revit 2020/2021)
DWG (Floor Plan)
DWG (Reflected Ceiling Plan)
The BIM Files we produce are for those who work in the Architecture, Engineering, and Construction (AEC space), such as the following:
Sectors:

Commercial, Retail, Data Centres, General Architecture/Design Firms, Engineering Firms, construction companies

Beneficiaries:

Professionals within organizations responsible for design, construction, project management, acquisitions, and leasing
BIM files FAQs
Are these BIM files LOD (Level-of-Development) 200?
Yes. Structural and architectural elements meet a LOD 200 specification, although furniture and MEP building information may typically be more representative of LOD 300.
LOD 200 means that any information derived from it must be considered approximate. At this LOD elements are generic placeholders. They may be recognizable as the components they represent, or they may be representative volumetric placeholders.
What is the accuracy?
The standard scan is 99% accurate. For a more accurate scan, please get in touch as we're able to increase the density of pointcloud at long ranges (e.g. high ceilings) .
Can I get something custom for my BIM file?
We are unable to accommodate customizations.
What is the maximum area size for a scan producing BIM files?
The maximum area for a single BIM file is currently 50,000 square feet. If your area is larger than 50,000 sq. feet we can split the space into two (or more as required)
Do you provide any other files or assets used by Architecture, Engineering, and Construction (AEC space)?
Yes, we can provide other assets that can imported into third-party programs, such as:
Colorized point cloud (.XYZ)
Reflected ceiling plan image
The virtual tour or scan of the building or space can also be provided in the following formats:
(.JPG) Multiple files if multiple floors
(.PDF) All floors in one file
A floor plan can also be provided in the following formats:
High-resolution floor plan image similar to the ceiling plan image but of the floor:
(.JPG) Multiple files if multiple floors
(.PDF) All floors in one file
3D mesh file (.OBJ) including the necessary texture map image files (.JPG)
Who are these files for?
These files are for architects, engineers, and construction professionals who want to import these assets into 3D third-party programs such as 3ds Max, ReCap, Revit, or AutoCAD. Or, to perform additional work, and then offer as part of a commercial package to their clients e.g:
Architects and engineers can use the point cloud to quickly create an as-built model and jump-start their designs.
Construction professionals can use the ceiling plan and floor plan images for documentation/verification and building turnover packages, or use the point cloud as a part of the QA/QC process
How are these files created?
We most often use the Matterport Pro3D camera (16376×8192 pixels resolution – 134MP) to create scans (99% accuracy), however, for more accuracy we can use the LEICA GEOSYSTEMS BLK360 (8192×4092 pixels resolution – 34MP) . Other camera options are available depending on your requirements such as the RICOH THETA Z1
Have any questions about BIM files production?
Call us on 0114 383 0711 or send us a message
BIM files examples to download
Below you can download example BIM files for the following building: