Navigation: Helping to sell homes more quickly – Estate agency virtual tour example – Giving Estate egents the competitive edge
Cutting edge technology giving Estate Agents the competitive edge whilst helping vendors sell their home more quickly & for more money
Here at 360 Virtual View we've been producing virtual tours for over 15 years, and over that time, we have the privilege of working with some amazing companies. However, during that time, we've also seen virtual tours go from expensive & time-consuming to create become something that is accessible, fast to create, and a very cost-effective way for estate agents to gain a competitive advantage in a very crowded market place.
Virtual tours have already become a mandatory offering from estate agents in the US. And the past few years have shown this trend now happening in the UK.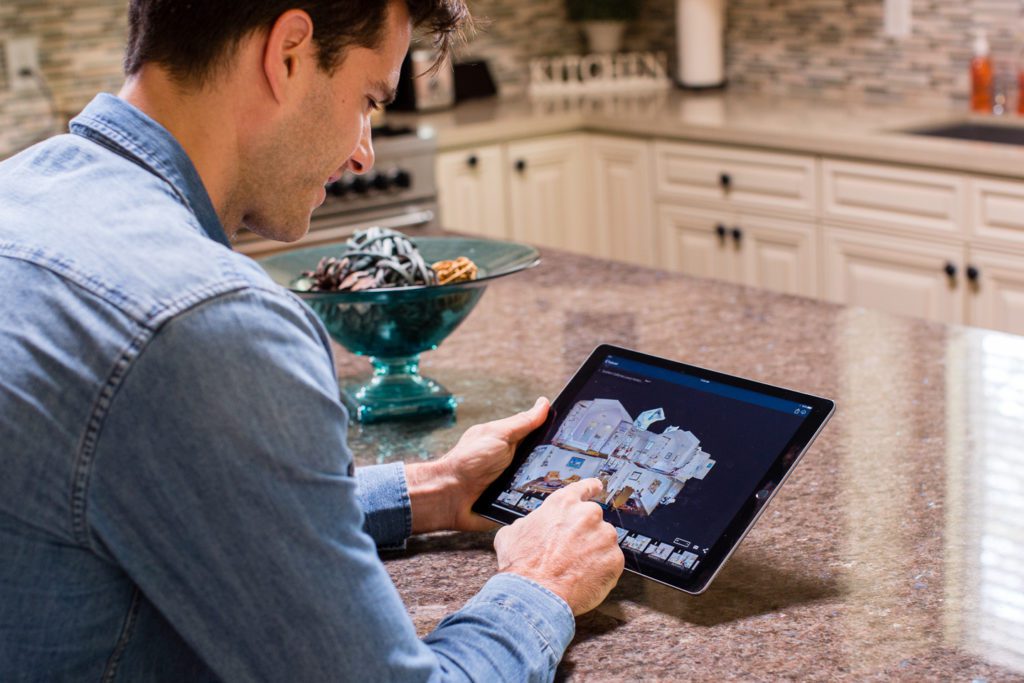 Very fast to create & very easy to display
What once would have taken a couple of days to capture, and then a couple more days to edit and code, can now be done in a few hours. Our virtual tours are not only very fast to create but they can be added to any website within minutes. No technical knowledge needed; a simple line of provided code is all you need to embed it in your website. Our virtual tours are specifically designed for estate agents so are also compatible with the independent property search websites like On The Market & Zoopla.
Great for vendors
One of the main reasons vendors are often put off selling their homes is due to the thought of endless lines of viewers scrutinising their homes. The house has to be tidy and someone has to be there to coordinate the viewing – not such a nice prospect for anyone – and this is all with no guarantee the house will be sold. Even worse than this is the fact that, certainly for the larger, more expensive houses, many of the viewers are likely to be simply curious and not in any position to actually buy. This wastes everyone's time.
Creating a virtual tour, however, means that we can more easily weed out the 'time wasters' and focus attention on those who are genuinely considering buying – a virtual tour benefits both the vendor and estate agent massively:
Reach more potential buyers – you don't have to live nearby or travel to have a look around a house you're interested in. You can now do it from the comfort of your own home whenever is convenient for you. If it 'ticks the boxes', you can then arrange to visit in person meaning you don't waste anyone's time
Avoid unnecessary viewings – we've all walked into a property and realised straight away it's not the one for us. Photographs can only tell us so much and wide-angle lenses don't give us a true representation of the size of a space. Potential buyers can now decide if they're genuinely interested before they make that appointment. They can explore and even measure rooms themselves all online (measurement tools accurate to around 0.1% of a metre).
It doesn't matter anymore where the buyer lives – all you need is a data connection and a web browser to view the virtual tour. Mobile phone, tablet, laptop, or desktop – explore the house wherever you are, whenever you like.
Find your way around more easily – old fashioned floor plans don't really give buyers a good sense of where things are in a house. A virtual tour allows you to view the house like a doll's house – open the walls and ceiling and view the whole house in 3D. Turn it around, look from the top or the sides, zoom in and out – it's the only way you'll ever see your house like this.
Even better for estate agents
Not a great deal has fundamentally changed for estate agency in a long time. The internet has moved things online, however, it's still ultimately down to photographs, wordy descriptions and 2D floor plans. Show vendors you're adopting the latest technology to provide them with the best chance of selling their home quickly and for a great price. Providing virtual tours is one of the best ways to make your agency stand out from the competition and show your customers your progressive and there to help them have the best experience.
Listings reach more potential buyers all over the world – in today's modern world, people often move long distances. Now it doesn't matter where they are – they can view and explore a property wherever they are and whenever it's convenient for them
Save everyone's time – viewings are time-consuming and often fruitless. A virtual tour will help you make sure that your time is focused on those who are genuinely in a position to buy. 'Tyre-kickers', 'time-wasters' and those who are simply 'curious' can now weed themselves out long before they come along for a viewing.
Save money – our virtual tours also provide a full suite of high-resolution & HDR images (4K print-quality photos) for use in print brochures and online. We also generate a standard 2D floor plan of the whole property
Very easy to share on all social media sites allowing you to reach even more potential buyers
Embed the virtual tour on your website and inegrate into other listing sites like Zoopla & On The Market
Stand out from the crowd – get the first-to-market advantage and become known for adopting new technology early on
Also great for lettings
No more arguments about whether that 'hole in the wall' was there when the tenant moved in or that 'stain on the carpet' was from before. Capture a rental properly in high definition before it's let and then you can go back at any time and see in high-definition exactly what state the place was in meaning no more augments.
Need some facts and figures?
Our virtual tour technology uses AI and is therefore only a few years, however, the uptake in the US has been much faster. A recent study from Austin, Texas, on the benefits of creating virtual tours provided the following results:
Estate agencies providing virtual tours for their customers were able to charge an average of 9% more in commission than their competitors
Houses sold 26% more quickly
Potential buyers spent 15% more time viewing the house
Potential buyers were 95% more likely to call about a house
20% of offers were made without even having to have a visit in person
74% of estate agents using virtual tours reported gaining more customers
More features of our virtual tours
Our virtual tours are second only to being there in person in terms of an immersive providing a complete representation of a house, but it gets even better! Here are some features designed to even further enhance the tour:
Embedded information – within the virtual tour we can include annotation or bits of extra information designed to highlight key features of the property. For example, easily point our underfloor heating with a tag attached to the floor. Point out extra storage. Direct attention towards the brand-new kitchen or link to the EPC report. Even include links to your website or contact information.
Get a traditional 2D schematic floor plan without ever having to visit – we'll do it for you! As we create the virtual tour, the camera uses infrared sensors to measure the house and can then easily generate a tradition estate agency floor plan with all measurements. It's a simple as that!
Wondering if that sofa will fit in the living room of the new house? Use the in-built measurement tools built into the virtual tour to accurately measure spaces. It take seconds and you don't even need to leave the comfort of your own home.
Get a full suite of wide-angle, HDR, high definition, 4k print-quality photographs to use in brochures and on websites – all captured automatically from the virtual tour. Even better than this, if you realise you'd also like an extra photograph at any time in the future, we can easily and quickly create this for you without having to visit again.
Get panoramic images for social media – sites like Facebook will now display panoramic images in your news feed. We'll generate and provide these for you giving you something new and exciting to post and helping you stand out from the competition and find more potential buyers.
A 'highlight reel' will let you guide visitors around the house showing them features like the bathrooms, the kitchen, the garden, and the garage. This enhances the virtual tour experience meaning buyers can quickly skip to the areas that are important for them.
Virtual tour viewers can also sit back and let the virtual tour do the work with a guided tour. Press 'play' and they'll be shown around the house automatically
Find out more
If you'd like a demo or have any questions, please don't hesitate to get in touch. We're based in Sheffield & Nottingham but work all around the UK. Call:
Chris in Sheffield on 0114 383 0711 or email chris@360virtualview.co.uk
Jerry in Nottingham on 07976 855 294 or email jerry@360virtualview.co.uk