Last year, Thornbridge Brewery (Bakewell) asked us to create a virtual tour for the Greystones Pub (Greystones Road, Sheffield). The purpose behind the virtual tour was:
To raise generally their profile and find new customers
To create something interesting and fun to share on social media
To provide extra interactivity for their website
To allow people who are considering visiting the pub the ability to look around the pub before visiting
To increase their presence on Google Search and Google Maps
And to get new customers through the door
At the time of writing, their virtual tour has had 75.5 thousand views and the Google content we put out has had a further 53.1 thousand views. As their pub reopens, they're perfectly placed to attract customers back as their Google presence is now by far the best one for miles.
The Virtual Tour
The Greystones Pub is a pretty average sized suburban pub in Sheffield owned by Thornbridge Brewery (Bakewell, Derbyshire). They have a music venue in the back of the pub and a reasonable outside area with benches.
The virtual tour we produced was easily added to the homepage of their website. you can view their virtual tour below:
This virtual tour also provides them with a virtual reality version allowing people to explore using a VR headset such as Oculous, Samsung Gear, or Google Cardboard.
Their virtual tour has already had over 75 thousand visits so far with nearly 4 thousand visits monthly.
Adding the virtual tour to the Greystones Website
It was very quick and easy to add the virtual tour to the Greystones website using a single line of HTML – no technical knowledge needed
Click here to view the virtual tour on the Greystones Pub website
Images for web, social media and promotional purposes
Along with the virtual tour, we also provided a suite of HDR High-Definition images for use on their social media channels, on their website, and for promotional purposes.
Google integration – Google Maps, Google Search, Google Earth, Google My Business, and Google Street View
Once the virtual tour was ready, we integrated it into Google. Now, anyone searching for a pub in the local area using Google Maps can see the Greystones Pub. They can view the images and even take the virtual tour and explore inside from within Google:
We also added the images and virtual tour to Google My Business and Google Search. At the time of writing, this content has had a combined further 53 thousand views: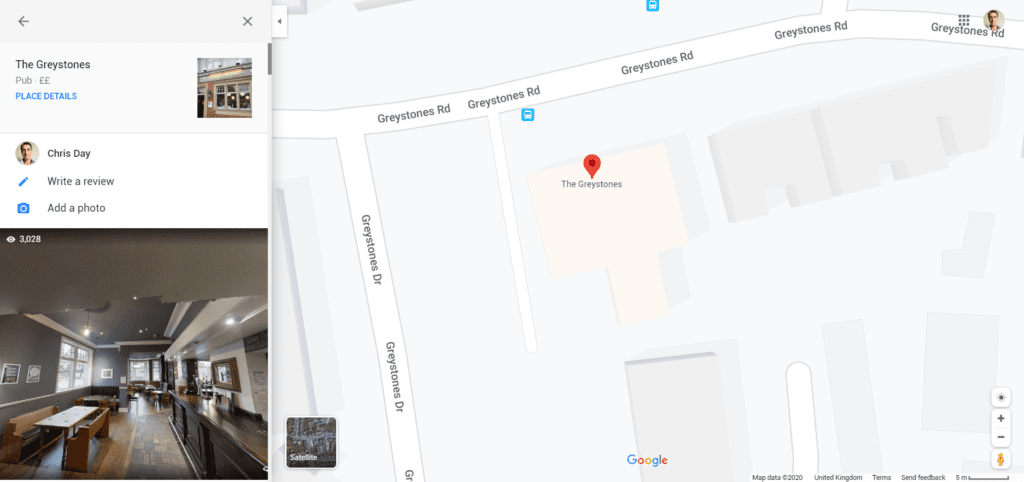 Find out more
To enquire about getting a virtual tour for your pub, call us on:
0114 383 0711 (Sheffield)
01629 337 955 (Bakewell)
07930 944 001 (mobile)